Twins Somalia is managed in Mogadishu by Abdirashid Salah, assisted by Martin Beale.
Abdirashid and Martin manage their own companies in Mogadishu, and each gives his time to Twins on a voluntary basis.
Abdirashid Salah is an independent consultant, social entrepreneur and founder of ISIR Consulting, which provides a broad range of services in Somalia and Kenya.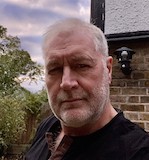 Martin Beale
has lived and worked in Mogadishu since 2010. His company there, Praetorian, provides security, logistics and project management services.
Somalia is endeavouring to emerge from many years of civil war and terrorist insurgency
Twins Somalia is a new project in its pilot phase.
As life starts to return to normal following the civil war, education is paramount in rebuilding the nation.
Hamar Jajab is one of the first schools to be established in Mogadishu since the end of the civil war.
Main Picture: Sister and Brother, Mogadishu. Farah Abdi Warsameh / AP
Schools Currently Twinned
Thetford Grammar School, Norfolk – Hamar Jajab School
Thetford Grammar School in Norfolk is twinned with Hamar Jajab School in Mogadishu.
Please see Thetford Grammar School's page on